Events
Breaking the Borders Vol. III
Antifascist hip hop returns to Glasgow on the 30th of November.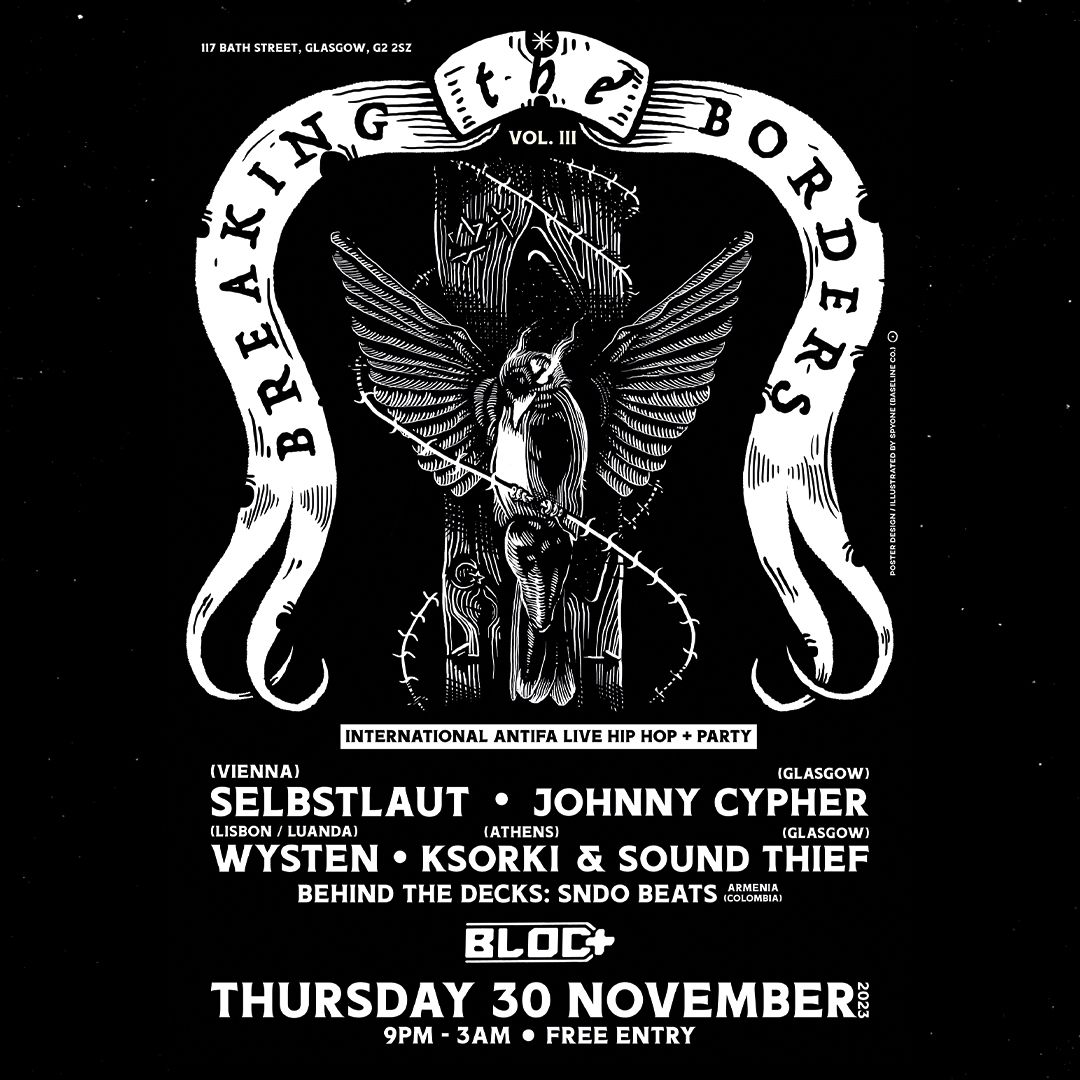 We are very excited to announce the relaunch Breaking the Borders, Glasgow's antifascist hip hop night.
The first two volumes of the event were launched by Interregnum in 2018 and 2019 and brought MCs from Greece, Germany, France, and Cyprus together with the local Scottish scene to perform against fascism and in solidarity with oppressed groups around the world.
After four years of silence, the relaunch of Breaking the Borders signifies our ongoing commitment to connecting the realms of politics and culture. At Interregnum, we view this connection as a necessity: in order to resist, we need to imagine. And imagination is impossible without music, enjoyment, and community. We warmly invite you to join us. See you on the 30th of November, from 9pm at Bloc + (117 Bath Street, Glasgow)!
Alongside Selbstlaut who will be joining us from Vienna, we are honoured to host Johnny Cypher (Glasgow), Wysten (Lisbon/Luanda), SNDO Beats (Colombia), as well as the organisers of the previous Breaking the Borders gigs, Ksorki (Athens) and Sound Thief (Glasgow). They will be joined by special guests Tick Bill (Glasgow) and RamZee (Glasgow).
Antifascism is inseparable from internationalism. In solidarity with the Palestinian people against Israel's genocidal assault, we will be collecting donations for Adalah, a human rights organisation working to defend the rights of Palestinians in Gaza, Israel, and the West Bank.
We thank Bloc + for hosting this event.